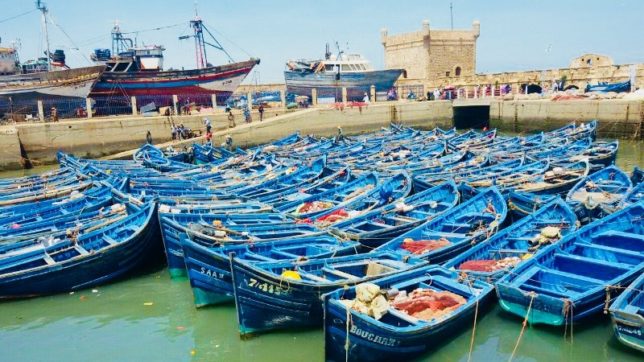 If you would like to take a break from the busy and crowded Marrakech and don't know where to go, we would like to suggest visiting Essaouira. It is near the city and it takes only a couple of hours to get there by a car. We guarantee you will fall in love with this old, small and beautiful gem! Many people know it by the name Mogador, but its official name is Essaouira. It is a peaceful coastal town that collides with the North Atlantic Ocean and one of the best excursions that you can get from Marrakech.
There are many sites that offer you a cheap day trip from marrakech to essaouira. The cost of the trip varies between 20 and 25 euros. They offer to pick you up and drive you to Essaouira early in the morning and return you back at the initial pick up place. On the way to the calming beauty you wouldn't want to miss out on the gorgeous landscapes and amazing sights. One thing that you will notice while traveling and crossing the Argan trees forest are the goats which feed from the trees and sometimes you get to witness as many as 20 goats climbing the trees. Also, not to forget to mention that you can meet with people working on extracting the Moroccan oil, universally known as Argan oil.
If you are interested in its production and benefits this is the right place to be! The working ladies are friendly and very welcoming. Upon arrival, you are on your own to explore and enjoy the allure of this town! This shouldn't worry you at all! It's very easy to get around and the roads aren't confusing. If you would like a tour guide, some of the agencies provide you with one at the very beginning, and some suggest you will find a local guide with an assistance from the driver. Once you get comfortable exploring the stunning sites that this small town has to offer you wouldn't want to leave! The sun is strong and the beaches are impeccable, so get ready for a bit of tanning! Or you could visit the port and engage in a small talk with some of the fishermen.
Excursion from Marrakech
The town has a few modern cafes, restaurants and also some art galleries spread randomly over the Medina. You could also visit Skala Kasbah, which was built to defend the town from any attacks coming from the sea. See the ramparts and the medieval building design that enhance Essaouira. This gives an impression of a historic place trying to be in accordance with the new era. There is everything for everyone's taste!
This is the most popular excursion from Marrakech, however if it is doesn't satisfy your appetite, there are also a few other tours from the city to tryout. For instance, many visitors and locals suggest that you could visit the Ouzoud waterfalls or the Ourika Valley. The waterfalls … READ MORE